News
Prague Spring 2019
My three year run with the renowned Prague Spring music festival is at the end. The last series of illustrations depicts magical music flowers. I had a permission to let my imagination loose and I couldn't be happier. Some flowers are more dangerous than others, so watch out!
Czech That Film
I was quite lucky that I could work for Czech Centres on the visual style for the festival of Czech movies in USA. The strong visual style in typical national colours communicates that you should be prepared for an unusual experience.
Pecha Kucha Zlin 11
It was my pleasure to be amongst other designers and architects at Pecha Kucha in Zlin. A lovely city and awesome atmosphere!
Scope100: New Generation
Claim for this event says it all – Come and join our movie gang.
Bio Oko summer camp
I'am more than happy to do something for kids (if the workload allows me), and this is no exception.
321 dilna
I was approached by Karel Janecek Foundation to prepare a logo and a complex CI for their workshop program 321. The main goal of the program was to give people from nonprofit organizations some marketing and financial guidance. The logo itself emphasises that workshops are divided into a three part system. The CI uses parts of marketing-financial symbols as a backround.
Double Features
Just a tiny little visual for my favourite Prague cinema Kino Aero. Two connected films – one night screening.
Vigor
Strategy and patience is your best weaponin this atmospheric battleground type of game by Bohemia Interactive. Stealth and looting are your best friend. The logo makes it clear.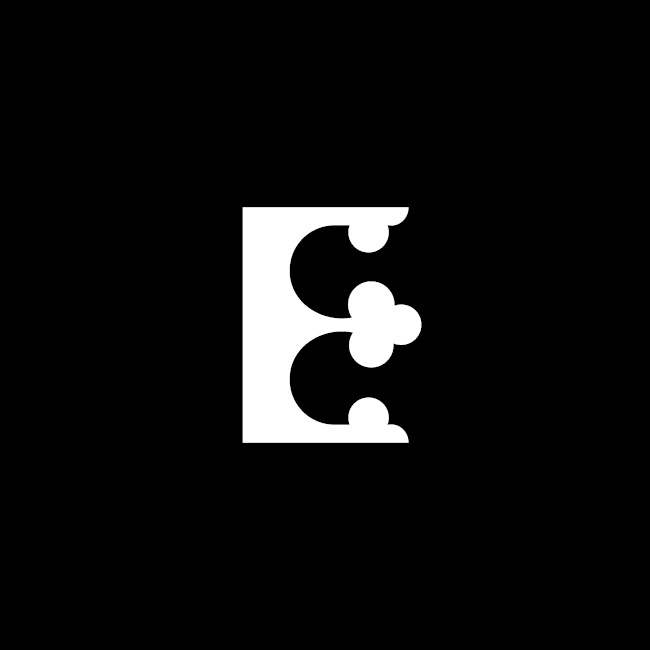 Song Empire
A professional group of musicians and songwriters needed a logo. We tried several different versions and as a result we ended up with an iconic, bold and clear logotype.
Bistro Ramen
Ramen soup is a sort of main character of this movie. The main story is about a familly ramen recipe and of course about love. So it begins and ends in the bowl of ramen.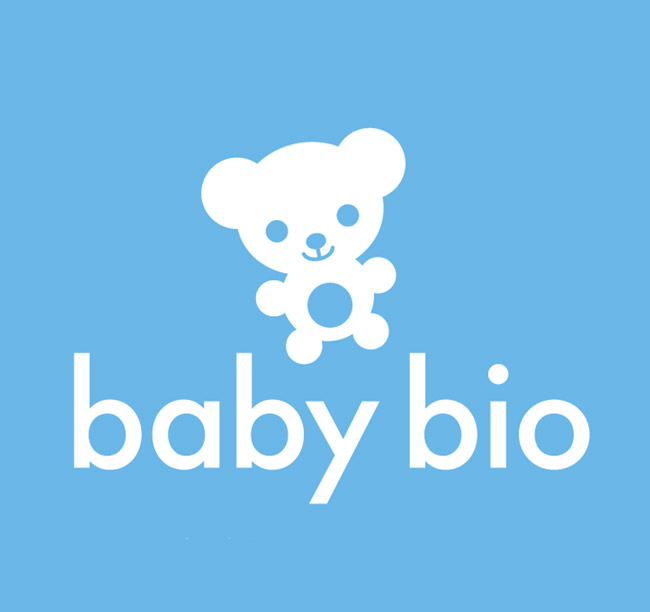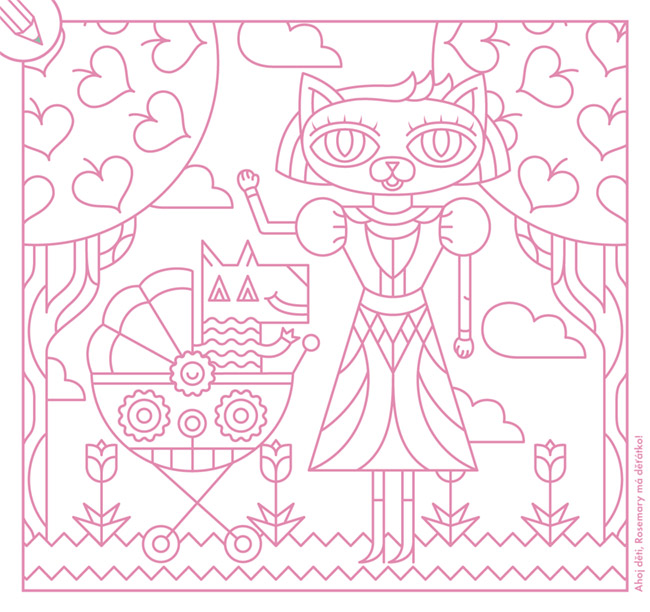 Baby Bio
Baby bio are kid friendly movie projections. No hissing and harsh looks when your child is... well, childish. The bonus on the other side of the leaflet is a coloring ilustation with a movie theme as a takeout.
Daniela Barackova web
Utilitarian and simple web for my friend Daniela. Daniela is an artist and she insisted that she needed a ton of work on her web. So I made a simple structure with simple graphics and everyone is happy.
Soffa BMW
Making illustrations is fun. This advertorial for Soffa magazine is no exception. The task was to make some kind of transormer from BMW car. Well, with pleasure.
Prague Spring 2018
Working on visuals for Prague Spring is a dream coming true. The phenomenal music festival, creative freedom and always positive feedback. Making all 27 insect-based creatures was pure joy. New forms, unknown combinations, adventure and exploration of magic musical species. Concept Musica Magica ends next year with the last trip to the land of a magical world of classical music. Done for Dynamo design.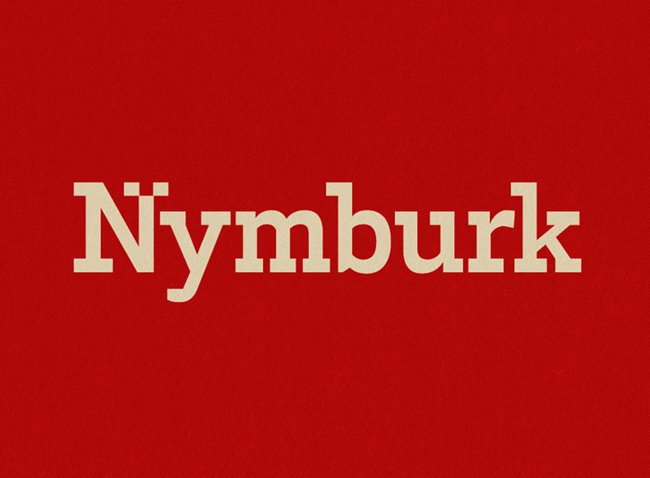 Nymburk
Corporate identity for a town of Nymburk was quite an interesting task. In fact, identities for cities always are. One must come up with a solution which will respect history and also future aspirations and needs. In this case, logotype mimics the look of historical city rampant. A slight change in upper serif of letter N pays tribute to the history and still makes logotype minimalistic and modern. Done with Colmo.
Firkusny festival
Visual identity of Firkusny piano festival intentionally refers to his older brother Prague spring. But unlike Prague spring Firkusny is more abstract. Structures are more like building blocks, cells and microscopic details of magical creatures.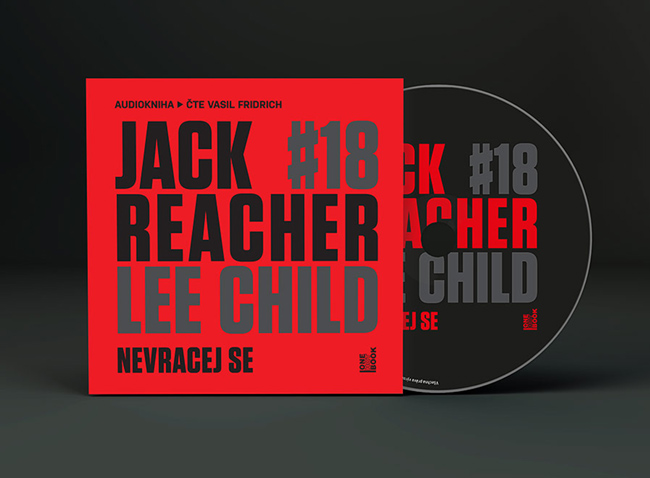 Jack Reacher audiobook
Jack Reacher books are phenomenal, in terms of commercial success. So, when an audiobook publisher OneHotBook decided to make a design based solely on typography I say great. The design is stylish, yet utilitarian like Jack Reacher himself. And on top of that, it is ready for all 20 other audiobooks that will come with just a change of colour.
Atelier
The concept behind Atelier cocktail & bistro is to make a unique combination of food with drinks. Milan is a superb bartender and Jakub is a cook, who worked in Michelin restaurants. The results are exceptional and always inspiring, special and full of unknown experiences. This is mirroring in visual style. Strange yet familiar shapes of typography say it all - you are entering the world of fantasy.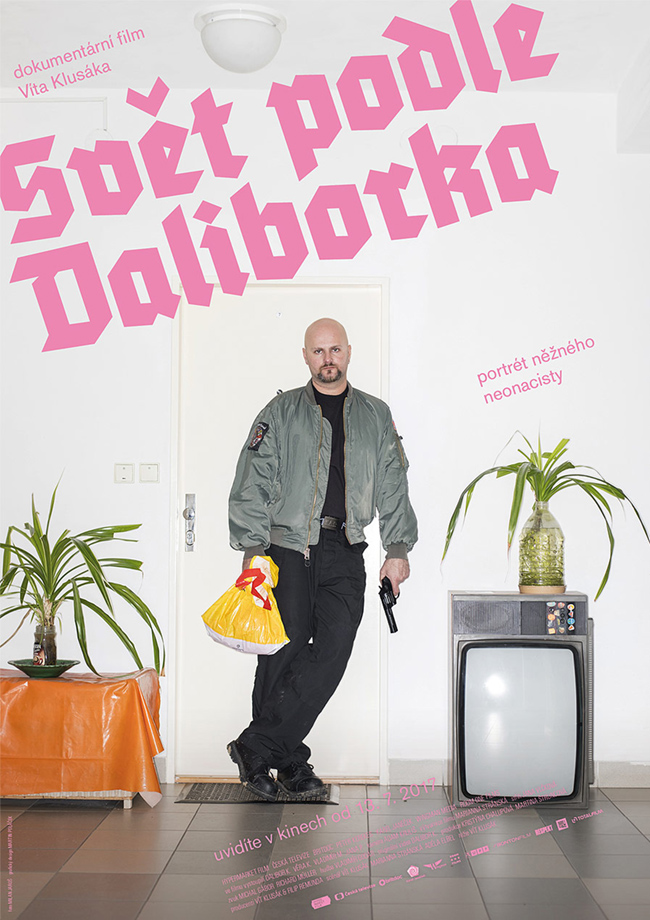 The White World According to Daliborek
One of the most influential Czech movies of 2017 is a portrait of a lost neo-nazi man. The movie is a hell of the ride through a bizarre periphery of the Czech Republic and even a weirder family. Typography is moved exactly by 18 degrees. Daliborek is a neo-nazi, 18 is a cryptogram for Adolf Hitler and in Daliborek's world, is the typography straight. Only we see it turned.
Happiest day of Olli Maki
Poster for this movie should have a touch of purity of the new wave cinema movement. So I decided to use solely typography and a few special graphic elements. The outcome is as light, fragile and pure as this Finnish movie itself.
Prague Spring
The prestigious festival of classical music with great history and a wonderful event for every music-lover. This is Prague Spring. It was my great honour and actually a dream job came true that I won the public competition with my concept called Musica Magica. The main theme are fantastic musical creatures from long forgotten manuscripts. Can´t wait for next two years, with new and completely different creatures!
Home Credit
The logo for Home Credit, a global financial institution, was made by Dynamo Design and I am the direct co-author. The main task was to create a logo understandable on every continent, in every context and every culture. I think, we did great job.
Kubrick
Too sad that the famous director Stanley Kubrick made only 13 movies. Lucky for me, it wasn' t too many so I could make a poster for every single movie at the Kubrick Festival in Kino Aero. Each iconic movie has its own iconic visual.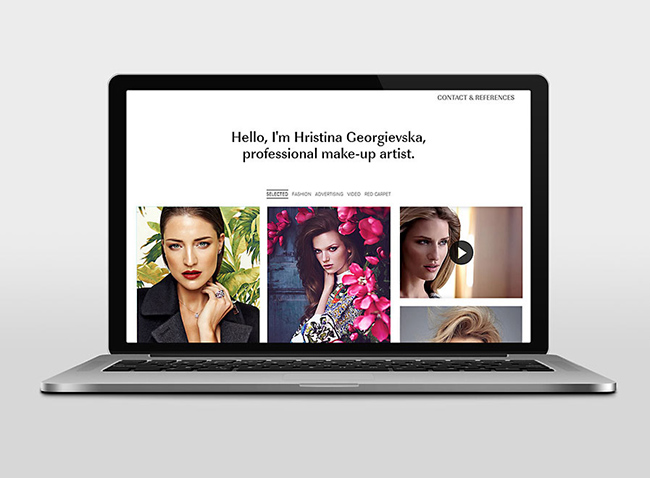 Hristina Georgievska
Rather small but a very stylish web for the Prague-based make-up artist Hristina Georgievska. There is no use for opulent or pompous graphic design when you have such gorgeous fashion photos. The outcome is clean and easy to use. Done in collaboration with Toman Design.
Scope 100
People are choosing movies for various reasons. Scope is a European program that lets you choose. This year's visual is simple. It's based on the best phrases you can find in popular reviews. My favourite is: I expected something else.
Shadowgun Legends
My pleasure to create yet another logo for the awesome Czech mobile games developer Madfinger Games. A new big hit will be the cooperative 3D fps. The logo is a sign for elite warriors and obviously has a hardcore feeling.
Reality
The movie Reality by Quentin Dupieux (Mr. Oizo) got its own visual design. The movie itself is like a dream inside a mirror maze. The process of making this visual identity was pure joy and the outcome made my day... or a month, actually. God bless projects like this!
Soffa magazine
Illustrations for Soffa magazine #13 depicts 6 Czech world-class scientists. They made our lives better, yet we tend to worship popstars, actors and bodybuilders. In my work, I tried to give the scientists a chance to become bad-ass heroes and legends themselves.
Alred hitchcock Presents
I love Hitchcock movies. Therefore, the visual for the showcase of his movies is a homage to his art of suspense. Once you know the treat, you can feel and enjoy the chill.
Woody Allen Festival
We all know that Woody is the ultimate lover who gets all the best girls. In his own movies. So, this visual is only saying out loud what we already know. And of course, happy 80th birthday Mr. WA!
Scope 100
100 registered users are chosen to help pick up new European movies into Czech distribution. 5 or 0 strars is the basic voting symbol, comprehended for everyone. And it should be for everyone.
Pes fest
A little but cute film festival with dogs and for dogs. Visual is simple and typographic. Every dog has his own sound.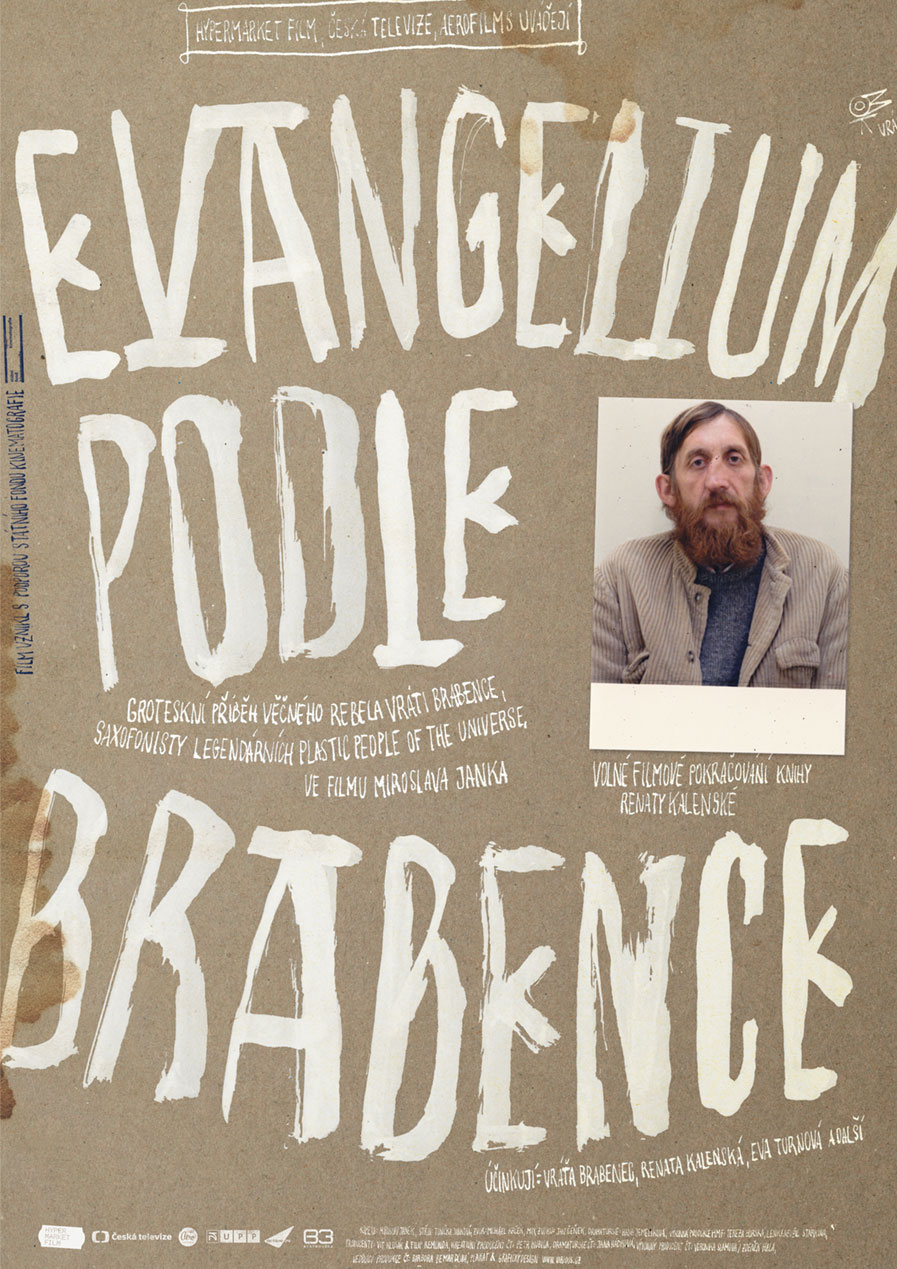 Brabenec´s Evangelium
Poster for a documentary about the legend of the Czech underground. No style, just rough brush and an old, old passport photo. Just like I imagine that Vráťa Brabenec would do it.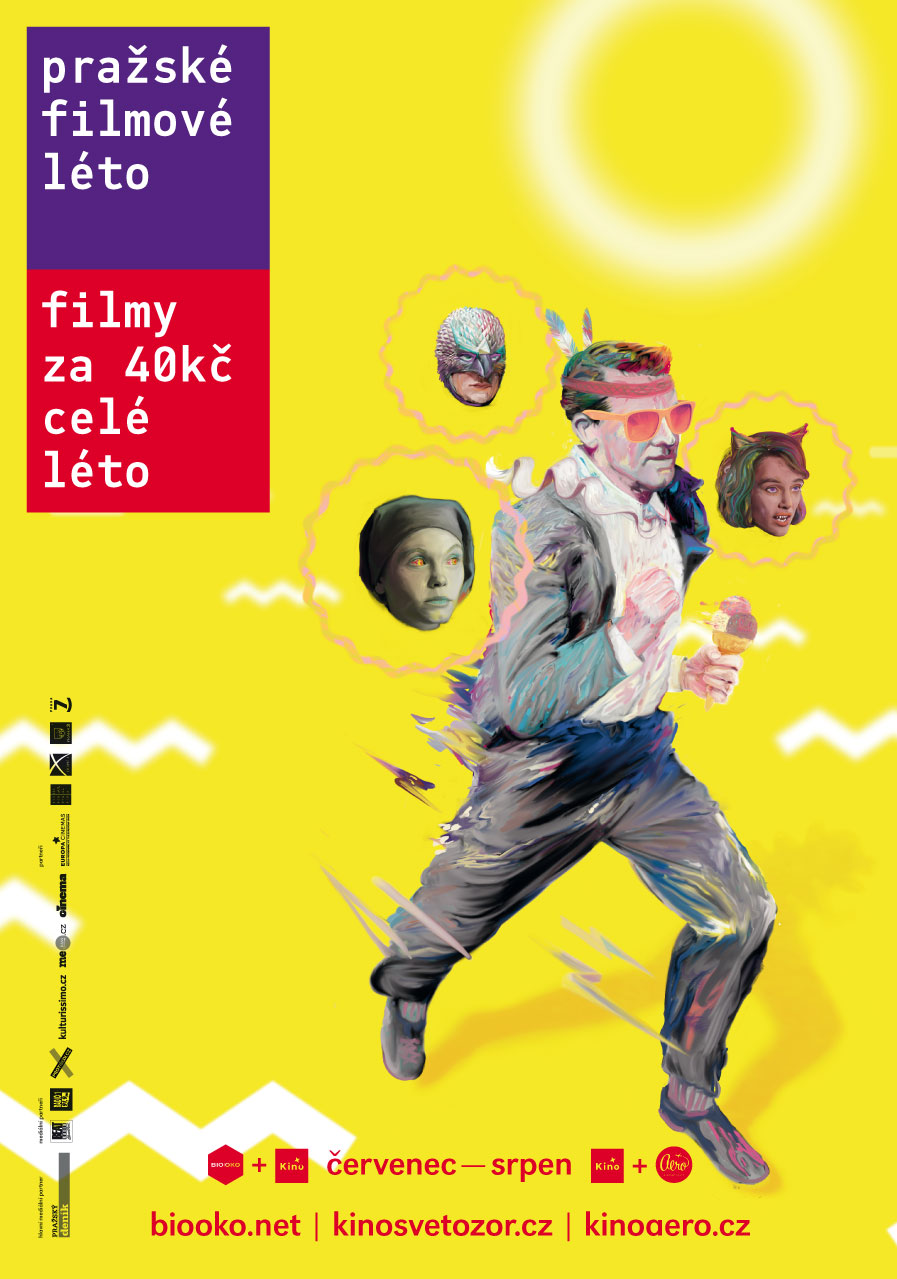 Prague Movie Summer
Summer Prague, heat and Carry Grant on a desert. He is running to the cinema theater, of course. Run Carry run.
UnKilled
Madfinger Games are the best if you want to play 3D shooting mayhem on your mobile. Genre is something like NY zombie mayhem… And so, the logo is glossy, sharp and cool.
Girl walks home alone in the night
Delicate work for the USA / Iranian Western / Vampire Horror / Lovestory movie. Yeah and there are also skateboards!
Interiors
Jana Holoubkova is great interior designer. She can create a lovable flat even from a cardboard box. It was a pleasure to make this soft, gentle identity.
MooDee
Janka and Saša are very skilled designers and stylists. They had name but neither a logo, nor a website or identity. So we created it!
My Mime
Mimes have festivals too, you know. This one with very explicit, mostly typographic logo.